---
Published continuously on the World Wide Web since 1996 - This site is supported by Tripod and other sponsors
This site was conceived and launched using free public access computers at the Miami-Dade Public Library in downtown Miami Florida
---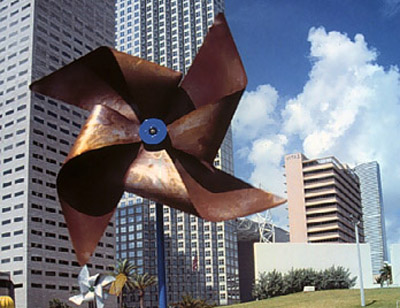 "Windscape"
Bayfront Park - Miami Florida
---
"Windscape" is a site-specific kinetic sculpture powered by the wind. It was a featured installation commissioned by the Bayfront Park Management Trust for the celebration of Multi-Cultural Day in Miami. It was designed and built as a collaboration between the artists Jack Lembeck and Susan Banks in association with students of LANDMIND.

"Windscape" is a construction of selected sculptural components and colors which indicate the four cardinal points of the compass and the flow of wind and light through them.
---
The large "pinwheels" mark North with blue, South with red, East with yellow West with green. Sixty-four air turbines are color coordinated in quadrants.
---
The center of the spiral is marked by four coordinated rotating spheres.
---
On opening day "Windscape" included an interactive educational component. A specially designed "pinwheel making kit" was designed. And the community was invited to create and build their own pinwheels in celebration of the event.(May 10, 1996)
Bayfront Park was designed by Isamu Noguchi. Visit the museum of this significant 20th century American artist at least on line if you can not in person.
Visit Bayfront Park Miami. Timothy Schmand was the public official responsible for the installation of Windscape. He was chief facilitator and manager of all things in the Park at the time.He soon became the Executive Director of Bayfront Park Management Trust.
He is also an accomplished writer and poet.

Tim Schmand, former Executive Director of Bayfront Park in Miami, reads one of his poems in the park.
.

"Primarily, what we carry around with us is a memory of our childhood, back when each day held the magic of discovering the world." (Isamu Noguchi)
---
GO TO
About the Artist | Public Collections | Brittle Star | Windscape | Windscape Works | Landmind
Early Work | Jeff's Vehicles | Circles of Life | Lembeck at Yale | NYC Galleries
Jack Lembeck
jack.lembeck@aya.yale.edu

United States
---
---
---
---
---
This site is supported by Tripod and other sponsors
Published continuously on the World Wide Web since 1996
---
---
---
---